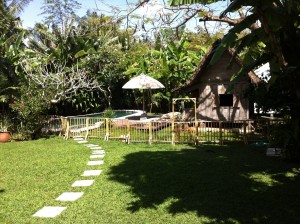 We had the pleasure of installing a bamboo pool fence at The White House, a gorgeous, tropical paradise, tucked away, with rice field views, yet it is situated in the heart of Seminyak. An adventurous garden with plenty of space for everyone, makes this a perfect family holiday destination.
There are 3 bedrooms in the main house and a double bed in the bungalow down by the pool, perfect if you are bringing the grandparents with you.
You will feel immediately at home in this house, considering the owners creative flair and attention to detail of the  interior decoration.